Above the South China Sea (CNN)The Chinese navy issued warnings eight times as a U.S. surveillance plane on Wednesday swooped over islands that Beijing is using to extend its zone of influence.
The series of man-made islands and the massive Chinese military build-up on them have alarmed the Pentagon, which is carrying out the surveillance flights in order to make clear the U.S. does not recognize China's territorial claims. The militarized islands have also alarmed America's regional allies.
Former CIA Deputy Director Michael Morell told CNN's Erin Burnett Wednesday night that the confrontation indicates there is "absolutely" a risk of the U.S. and China going to war sometime in the future.
READ: China cautions U.S. Navy on patrols
A CNN team was given exclusive access to join in the surveillance flights over the contested waters, which the Pentagon allowed for the first time in order to raise awareness about the challenge posed by the islands and the growing U.S. response.
CNN was aboard the P8-A Poseidon, America's most advanced surveillance and submarine-hunting aircraft, and quickly learned that the Chinese are themselves displeased by the U.S. pushback.
"This is the Chinese navy ... This is the Chinese navy ... Please go away ... to avoid misunderstanding," a voice in English crackled through the radio of the aircraft in which CNN was present.
This is the first time the Pentagon has declassified video of China's building activity and audio of Chinese challenges of a U.S. aircraft.
A depiction of where exactly China is building islands out of nothing, 600 miles off the coast of its mainland.EXPAND IMAGE
The aircraft flew at 15,000 feet in the air at its lowest point, but the U.S. is considering flying such surveillance missions even closer over the islands, as well as sailing U.S. warships within miles of them, as part of the new, more robust U.S. military posture in the area.
Soon after the Chinese communication was heard, its source appeared on the horizon seemingly out of nowhere: an island made by China some 600 miles from its coastline.
The South China Sea is the subject of numerous rival -- often messy -- territorial claims over an area that includes fertile fishing grounds and potentially rich reserves of undersea natural resources. China is increasingly showing that even far from its mainland, it sees itself as having jurisdiction over the body of water.
Wednesday's mission was specifically aimed at monitoring Chinese activities on three islands that months ago were reefs barely peaking above the waves. Now they are massive construction projects that the U.S. fears will soon be fully functioning military installations.
China's alarming creation of entirely new territory in the South China Sea is one part of a broader military push that some fear is intended to challenge U.S. dominance in the region. Beijing is sailing its first aircraft carrier; equipping its nuclear missiles with multiple warheads; developing missiles to destroy us warships; and, now, building military bases far from its shores.
That's exactly what Morell warned may be coming if China continues down its current path. He warned on CNN that "there's a real risk, when you have this kind of confrontation, for something bad happening."
READ: What is a littoral combat ship?
He added that China's aggressive growth hints at a broader trend as the Asian economic superpower continues to expand its influence and strength -- one that Morell said could "absolutely" lead to war between the U.S. and China.
"China is a rising power. We're a status quo power. We're the big dog on the block ... They want more influence," he said. "Are we going to move a little bit? Are they going to push? How is that dance going to work out? This is a significant issue for the next President of the United States."
War is "not in their interests, (and) it's not in our interests," Morell acknowledged.
"But absolutely, it's a risk," he said.
"I'm scratching my head like everyone else as to what's the (Chinese) end game here. We have seen increased activity even recently on what appears to be the building of military infrastructure," Capt. Mike Parker, commander of the fleet of P8 and P3 surveillance aircraft deployed to Asia, told CNN aboard the P8.
"We were just challenged 30 minutes ago and the challenge came from the Chinese navy, and I'm highly confident it came from ashore, this facility here," Parker said of the Chinese message for the U.S. plane to move away, as he pointed to an early warning radar station on an expanded Fiery Cross Reef.
In just two years, China has expanded these islands by 2,000 acres -- the equivalent of 1,500 football fields -- and counting, an engineering marvel in waters as deep as 300 feet.
The evolution of American surveillance planes 7 photosThe evolution of American surveillance planes 7 photosThe Convair B-36 Peacemaker was a bomber used by the United States Air Force during the 1950s. Before 1955, it was used primarily for nuclear weapons delivery for the Strategic Air Command.Hide Caption 1 of 7The evolution of American surveillance planes 7 photosThe North American B-45 spy plane was the first jet bomber. The development for this aircraft started in 1944 and continued until 1945, during WWII. It was used in several enemy countries in the 1950s.Hide Caption 2 of 7The evolution of American surveillance planes 7 photosA Boeing E-3 Sentry AWACS performs a flying display at the 47th International Paris Air Show on the last day of the event in 2007. The plane is known for its distinctive rotating radar dome.Hide Caption 3 of 7The evolution of American surveillance planes 7 photosA Lockheed U-2, nicknamed "Dragon Lady," is a reconnaissance aircraft operated by the United States Air Force. Here, one lands at the Akrotiri British RAF airbase near Limassol, in the eastern Mediterranean in 2013. The plane provides all-weather intelligence gathering. It has served the Air Force for more than 50 years.Hide Caption 4 of 7The evolution of American surveillance planes 7 photosA flight suit for the SR-71 spy plane is displayed at the Pima Air and Space Museum May 13 in Tucson, Arizona. Hide Caption 5 of 7The evolution of American surveillance planes 7 photosA U.S. Air Force SR-71A, also known as the "Blackbird," is put through its paces during a test flight over Beale Air Force Base in California. The aircraft, built by Lockheed, was used for strategic reconnaissance for almost 24 years before the fleet was retired in 1990.Hide Caption 6 of 7The evolution of American surveillance planes 7 photosA P-8A Poseidon, the Navy's newest anti-submarine warfare and surveillance plane, conducts flyovers above the Enterprise Carrier Strike Group during exercise Bold Alligator 2012.Hide Caption 7 of 7







EXPAND GALLERY
In video filmed by the P8's surveillance cameras, we see that in addition to early warning radar, Fiery Cross Reef is now home to military barracks, a lofty lookout tower and a runway long enough to handle every aircraft in the Chinese military. Some call it China's "unsinkable aircraft carrier."
In a sign of just how valuable China views these islands to be, the new islands are already well protected.
From the cockpit, Lt. Cmdr Matt Newman told CNN, "There's obviously a lot of surface traffic down there: Chinese warships, Chinese coast guard ships. They have air search radars, so there's a pretty good bet they're tracking us."
The proof was loud and clear. The Chinese navy ordered the P8 out of the airspace eight times on this mission alone.
Each time, the American pilots told them calmly and uniformly that the P8 was flying through international airspace.
That answer sometimes frustrated the Chinese radio operator on the other end.
Once he responds with exasperation: "This is the Chinese navy ... You go!"
READ: World wary of China's 'great wall of sand
This is a military-to-military stand-off in the skies, but civilian aircraft can find themselves in the middle.
As was heard on the first of several Chinese warning on the radio, the pilot of a Delta flight in the area spoke on the same frequency, quickly identifying himself as commercial. The voice on the radio then identified himself as "the Chinese Navy" and the Delta flight went on its way.
The more China builds, U.S. commanders told CNN, the more frequently and aggressively the Chinese navy warns away U.S. military aircraft.
Over Fiery Cross Reef and, later, Mischief Reef, fleets of dozens of dredgers could be seen hard at work, sucking sand off the bottom of the sea and blowing it in huge plumes to create new land above the surface, while digging deep harbors below.
"We see this every day," Parker said. "I think they work weekends on this because we see it all the time."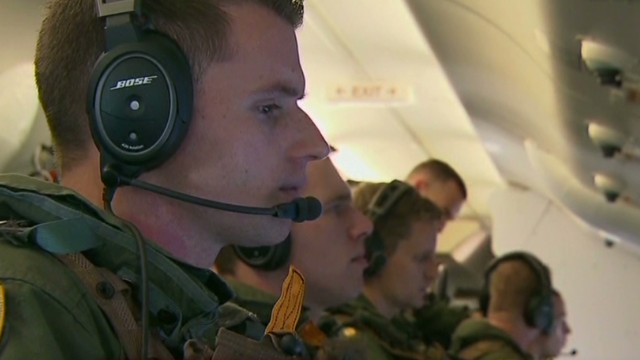 JUST WATCHEDCan Navy sub hunter find missing plane?ReplayMore Videos ...MUST WATCH
Can Navy sub hunter find missing plane? 03:08Follow @CNNpolitics